DECAL INSTALLATIONS
Our installation team working a decal around a rivet on a large Redux Nutrition Ltd. truck trailer.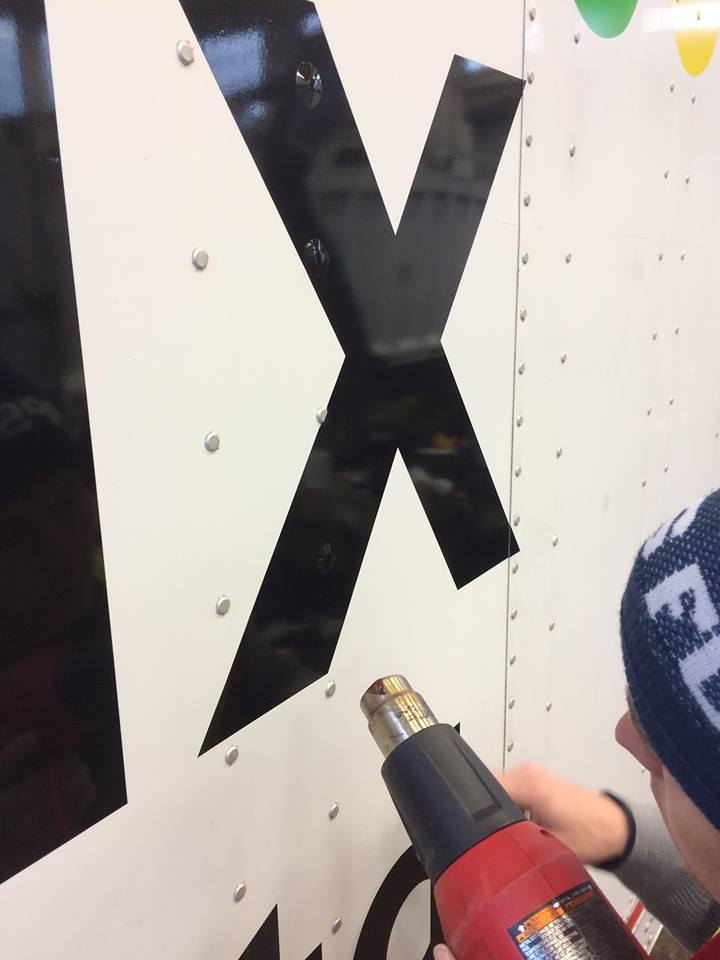 Heat guns are used to soften vinyl. This allows decals to conform around curved surfaces such as rivets.
We offer decal installation services to the Lower Mainland of British Columbia. Our team of experienced installers can travel to your location and are prepared to install any graphic for any job that is required.
Large projects? We have Three installers at your disposal. Business locations are not the only onsite candidates. Boats or any vehicles restricted from public road use, new subdivisions or unmarked locations will also benefit from this service.
We are experienced in installing all types of materials including vinyl, wallpaper murals and Large Format Graphics. ReBranding? On a tight deadline? Full on onsite service is what we do.
We can handle your seasonal graphic change out or roll outs fast and efficiently , whether we are supplying your graphics or you have your own Corporate Graphics and just want them installed.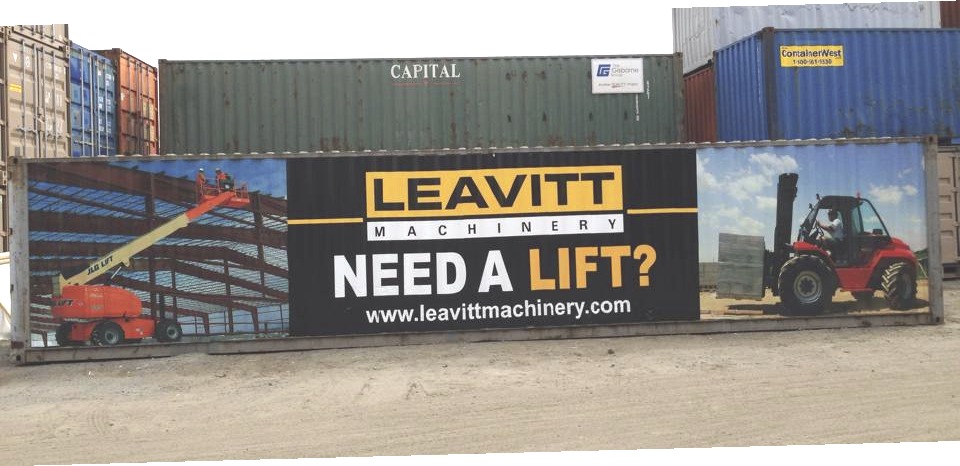 Large installation on a 40 foot corrugated container for Leavitt Machinery.
We're also well known in the heavy equipment industry as we have been providing high quality machinery decals for over 25 years.
Quite often construction or heavy equipment companies need work done but can't afford to shut production down through the day. No worries as our crew can also provide after hours or weekend installations. Keep the fleet making you money and we'll do the needed work after hours.
In today's market with global corporations many of them use one trusted printer or a sign company for all signs and graphics production. But such big companies have their offices and stores all around the continent. This is why we have served as the decal installation company of choice for numerous sign companies from all around Canada and the USA.
We have extensive knowledge about dozens of vinyl brands and types. This knowledge covers: How and where these vinyls can be applied. What are the working temperatures, proper tools and chemicals to be used during the installation. What kind of treatment should be applied to the installation surface. These examples influence how the graphics will look after a month and over the years. It is important to find people who know how these conditions apply to the quality of your job. We would love to help.
Some of the areas that we are capable of installing decals on include:
Vehicles
Industrial fleets: garbage trucks, buses, and trailers
Heavy machinery, such as dozers and excavators
Containers
Aircraft
Storefront windows
Storefront signs
Various yard or building signs
Buildings
We have the right tools and experience to get the job done. Hiring a professional decal installation team is the final step to bringing your project to life.
Our team of 3 installers are 3M™ trained technicians with many years of decal installation experience. The team is friendly, professional and reliable. We guarantee thorough and high quality work in a timely fashion. They will make sure that your project looks good, and therefore your company looks good. Customer satisfaction is our number 1 priority.
Contact us to book your installation date today.